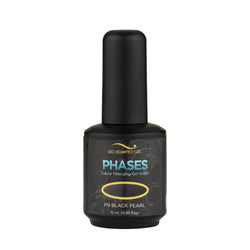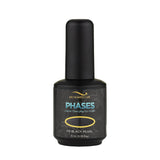 Cold - Deep black, jelly finish
Hot – Medium grey, jelly finish
PHASES is a colour changing three-step gel polish formula requiring use with BSG Base and Top. Colours change in hot and cold temperature for two looks in one.
Individual Size: 15 mL (0.50 fl.oz)
3STEP MANICURE:
Enjoy a traditional gel polish manicure with our 3STEP Colour Gel Polish! Achieve salon-quality like nails in the comfort of your own home.
1. Prep your nails: lightly buff nails and cleanse with 70%+ alcohol to remove oils and dusts. Wait for nails to dry completely. No primers, bonders or heavy sanding required.
2. Apply a thin coat of base gel polish. 3STEP is optimized for use with our Base-1 Gel Polish or Base Sculpting Gel. Cure for 30 seconds in LED lamp or 60 seconds in UV lamp. Note: base gel will always remain tacky even after curing.
3. Apply a thin coat of 3STEP Gel Polish and do not cap the free edge. For best gel colour application always shake well before use and paint in thin layers. 
4. Cure for 60 seconds in LED lamp or 120 seconds in UV lamp. Our 3STEP Gel Polish is optimized for use with our U-Light Pro 6. For all other lamps, we recommend to double the cure time.

5. Repeat steps 3 & 4 until coverage and desired opacity is reached.
6. Apply a thin coat of top gel polish. 3STEP is optimized for use with our No-Wipe Top Gel Polish or Top Sculpting Gel. Cure for 60 seconds in LED lamp or 120 seconds in UV lamp.
View 
#BSGBlackPearl
 on Instagram to see this shade as worn by our 
#BSGSquad
!
See more shades of 
#BSGBlack
 and 
#BSGGrey
GET FEATURED
Tag your 
#bioseaweedgel
 photos for your chance to be featured on our page:
1. Tag us @bioseaweedgel and #bioseaweedgel
2. Tag the colour name #BSGColourName
3. Tag the colour shade #BSGColourShade
Love this colour
I had fun using this on my pointer along with a Cat Eye topcoat (not BSG) to create this really cool effect.
Other BSG colours used in my paint job:
Cotton Angel + Mousse (mixed 1:1)
Crystal Ball
Black Magic
Love BSG!
Black Pearl Sorcery
This is the first black color change polish I've found that warms to a cloudy or light jelly grey and I'm obsessed! I saw it a while ago on IG and immediately bought it 🖤. It'll definitely be a fun addition to Halloween nail art.
Cool
Love the colours but wish the grey was more pigmented
I love Black Pearl
This is a beautiful black that turns into a very light jelly Grey. It is actually my favorite Halloween Gel Polish. It's so innovative and stunning!
love phases polish
I love the phases polish by bio seaweed. This black changes to a nice dark grey I love it, my clients love it too.