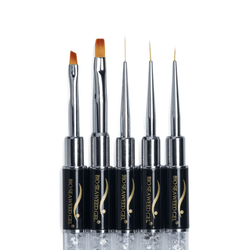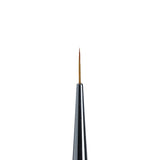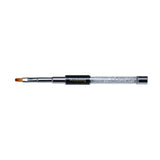 Salon Tools
Diamond Nail Art Brush
Diamond Nail Art Brushes offer a precise and detailed application.

Purchase the Full Set Diamond Nail Art Brush (5pc) to receive a free Artist'e Nail Art Gel Polish (value $10). 
Brush Types:
a) Liner 1: For detailed, small stroke art

b) Liner 2: For short strokes to draw smile lines and details

c) Liner 3: Striper for outlining images and adding contours

d) Angle: Create intricate designs with a cut at a 45° angle for control. Works great for Sculpting Gels as well

e) Sculpting: Designed for the perfect gel application and used to cut an even BSG White Gel French smile line
Excellent brushe
I got the Line 3 brush and it's made nail art much easier... omg. Didn't know what I was missing.
Hi B S,
Thank you for taking time to review 249 Royal Blue.
We are grateful for your support in our company.
Kindly do note our colour description for this shade mentions 'sheer' meaning the colour is always a see-through finish.
Please contact our customer service team for any further assistance at: onlinesales@bioseaweedgel.com
Great brushes great quality and GREAT SERVICE
Beautiful quality brushes
This brush set really blew my expectations out of the water, high quality, and a dream to work with. I highly recommend these!
Good day Leah,
Thank you for your feed back on Diamond Nail Art Brushes.
We are glad you are enjoying them!
The best
I been using this liner blush for years
I just purchased a new one because I wore bout the first one I got 3 years ago … I have my friends using as well ,
Favourite Brush for Gel Nail Polish
This is my all-time FAVOURITE brush to use for gel nail polish. It's sturdy and wide enough to hold product and get enough nail area down in 1 swipe. It's not too dense where mid-swipe the brush starts taking away product, it's the PERFECT density, width and sturdyness. I love it the most for applying my builder X gel