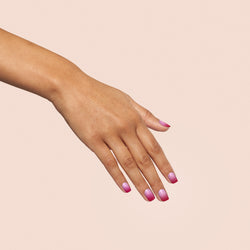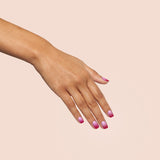 Cold - Hot fuchsia pink, jelly finish
Hot - Cloudy pink, jelly finish
PHASES is a colour changing three-step gel polish formula requiring use with BSG Base and Top. Colours change in hot and cold temperature for two looks in one. 
Individual Size: 15 mL (0.50 fl.oz)
3STEP MANICURE:
Enjoy a traditional gel polish manicure with our 3STEP Colour Gel Polish! Achieve salon-quality like nails in the comfort of your own home.
1. Prep your nails: lightly buff nails and cleanse with 70%+ alcohol to remove oils and dusts. Wait for nails to dry completely. No primers, bonders or heavy sanding required.
2. Apply a thin coat of base gel polish. 3STEP is optimized for use with our Base-1 Gel Polish or Base Sculpting Gel. Cure for 30 seconds in LED lamp or 60 seconds in UV lamp. Note: base gel will always remain tacky even after curing.
3. Apply a thin coat of 3STEP Gel Polish and do not cap the free edge. For best gel colour application always shake well before use and paint in thin layers. 
4. Cure for 60 seconds in LED lamp or 120 seconds in UV lamp. Our 3STEP Gel Polish is optimized for use with our U-Light Pro 6. For all other lamps, we recommend to double the cure time.

5. Repeat steps 3 & 4 until coverage and desired opacity is reached.
6. Apply a thin coat of top gel polish. 3STEP is optimized for use with our No-Wipe Top Gel Polish or Top Sculpting Gel. Cure for 60 seconds in LED lamp or 120 seconds in UV lamp.
View 
#BSGSaturn
 on Instagram to see this shade as worn by our 
#BSGSquad
!
See more shades of 
#BSGWhite
 and 
#BSGPink
GET FEATURED
Tag your 
#bioseaweedgel
 photos for your chance to be featured on our page:
1. Tag us @bioseaweedgel and #bioseaweedgel
2. Tag the colour name #BSGColourName
3. Tag the colour shade #BSGColourShade
Thermal Gel Rocks!
Oh my goodness! I love this color. Saturn is my favorite color changing gel. That hot pink fuchsia color when it's cold that turns into that soft opaque creamy beige pink when it's warm. It is soooo pretty.
All time Fav
This is hands down my favorite colour out of the collection, I love how you can get a natural ombre look when the colour changes back slowly from a soft nude pink to vibrant fusha!
Product Quality
It is a good product my first time using it though it didn't last two weeks but a week on then it started chipping off.
Hi Blessing,
Thank you for taking the time to review #P2 Saturn.
We apologize if your experience with our products have been anything less than perfect.
With the proper prep, application and cure times, BSG products will last 2+ weeks for high shine and chip-free nails.
Chipping typically occurs when the product is being applied too thick and/or is being under-cured. We kindly suggest to check these two factors for a better application!
Please email us at onlinesales@bioseaweedgel.com for troubleshoot tips to ensure a perfect application every time!
Thank you for choosing BSG.