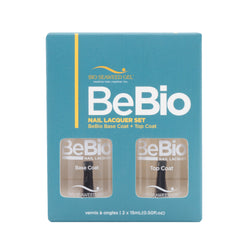 Experience the joy of effortless beauty at home with BeBio Nail Lacquer. Prolong and protect your nail polish manicure and pedicure with our stain-free base coat and luminous shine top coat.

Clear nail lacquer formula

Provides a high-shine finish

Prolongs your BeBio Nail Lacquer manicure and pedicure

Easy wipe-off removal with acetone or nail polish remover

Size: 15mL (0.50 fl.oz) per bottle
Works Well
I went all out and used the little sandpaper block they sent, the base coat, polish and the top coat, and I've had no problems with wear or chipping. In fact, it seems to keep the polish looking fresh much longer than other products I've tried. I would highly recommend, but apply it the way they suggest.
Must have!
It's so important to apply a base and topcoat for longer lasting and shiny nails. This is a great set!
Love, Love, Love!!!!
I absolutely love Bio Seaweed's base and topcoat!! My clients manicures are super shiny and long lasting. Very satisfied with the results!! My go to from now on!!
Durable base and top!
These two are a powerful duo together. Polish stays shiny and lasts longer than other base/tops. Very happy with this purchase.
Great quality
Recommended. Great quality and easy to apply