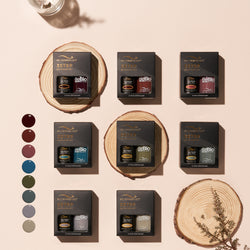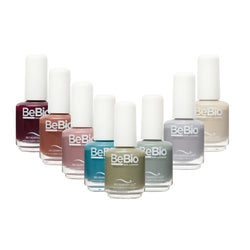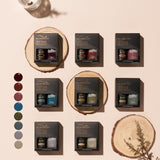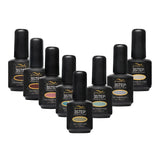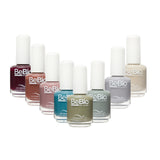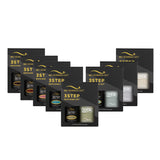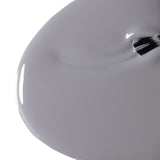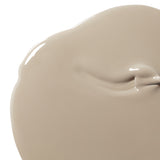 Collections
Living Lush Collection #1041-1048
Time to reset and get in touch with your roots with the newest Fall 2021 Living Lush Collection. Inspired by the natural beauty found all around, these 8 new earth tones will leave you renewed. 

Available in:
3STEP Colour Gel Polish (15 mL/0.50 fl.oz each)
BeBio Nail Lacquer (15 mL/0.50 fl.oz each)

1041 Escape the City - Black cherry red, solid finish
1042 Sequoia Red - Mahogany red, solid finish
1043 Falling Maple - Mauve plum, solid finish
1044 Sea to Sky - Deep sea teal, solid finish
1045 Living Lush - Moss green, solid finish
1046 Wildflower - Pewter green, solid finish 
1047 Wanderlust - Stone grey, solid finish
1048 Coast to Coast - Limestone beige, solid finish

BeBio Nail Lacquer Purpose:

Provides up to 7 of more days of wear
Applies onto natural nail or over artificial extensions 
BeBio Nail Lacquer Benefits:

No discolouration or staining of natural nails
Air-dry with no LED/UV lamps needed
Easy wipe-off removal
Available in matching shades of 3STEP Colour Gel Polish and inspired shades of Dip Powder System
122+ colour choices
BEBIO NAIL LACQUER INSTRUCTIONS

BeBio Nail Lacquer is a high-quality traditional nail lacquer that provides up to 7 days or more of wear.

1. PREP NAILS
Lightly buff nails and cleanse with 70%+ alcohol to remove oils and dusts.
Wait for nails to dry completely.
No primers, bonders or heavy sanding required.

2. BEBIO BASE COAT
Apply one thin coat of BeBio Base Coat.
Allow air-dry time.

3. BEBIO NAIL LACQUER COLOUR FIRST COAT
Shake well before use. 
Apply one thin coat.
Allow air-dry time.

4. BEBIO NAIL LACQUER COLOUR SECOND COAT
Repeat Step 3 until desired opacity is reached. Allow air-dry time.

5. BEBIO TOP COAT
Apply one thin coat of desired BeBio Top Coat. Allow air-dry time.
PRO TIPS

Shake bottles well before use
Paint thin layers 
Allow air-dry time between each coat 
Fall collection
Beautiful color for this 2021 Fall!
one of my favorite collections!
i wasnt sure if i was going to love this collection... but its a favorite! there isnt one color i dont like and its so diverse! there is definitely a color for everyone in this collection!
The most gorgeous fall colors you'll ever need!
This entire fall collection is so gorgeous! Highly recommend!!! The formula is incredible (as always) and highly pigmented!