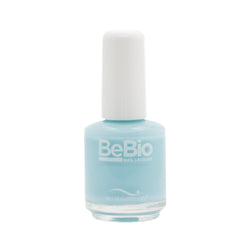 A pastel baby blue in a solid finish.
Experience the joy of effortless beauty at home with BeBio Nail Lacquer. Enjoy swift drying times and a lasting, chip-resistant finish that effortlessly express your unique style:
Pigmented nail lacquer formula

Up to 7 days of chip resistant wear

Quick drying

Easy wipe-off removal with acetone or nail polish remover

Available in a gel polish formula; see

Matching Set
Size: 15mL (0.50 fl.oz)
COLOUR ACCURACY:
We do our best to show you our products in their true colors. But keep in mind, your device's settings and resolutions can make them look a tad different from real life 😉🎨
Colours available in gel polish formula; see Matching Sets

Provides up to 7 or more days of wear

Long lasting and highly pigmented formula

No discolouration of natural nails

No LED/UV lamp required; air-dry product

Easy wipe-off removal with acetone or nail polish remover
BEBIO MANICURE:
Indulge in the timeless elegance of a classic polish manicure using our BeBio Nail Lacquers. Elevate your style effortlessly and frequently with our richly pigmented formula, allowing you to embrace a spectrum of stunning looks.
1. Prep your nails: lightly buff nails and cleanse with 70%+ alcohol to remove oils and dusts. Wait for nails to dry completely. No primers, bonders or heavy sanding required.
2. Apply one thin coat of base nail polish. BeBio is optimized for use with our BeBio Base Coat. Allow 1-2 minutes to air dry.

3. Apply a thin coat of BeBio Nail Lacquer colour. For best nail lacquer application always shake well before use and paint in thin layers. Allow 1-2 minutes to air dry.

4. Repeat step 3 until coverage and desired opacity is reached.
5.  Apply one thin coat of top nail polish. BeBio is optimized for use with our BeBio Top Coat. Allow 2-3 minutes to air dry,
View 
#BSGPowderBlue 
on Instagram to see this shade as worn by our 
#BSGSquad
!
See more shades of
#BSGBlue
GET FEATURED
Tag your 
#bioseaweedgel
 photos for your chance to be featured on our page:
1. Tag us @bioseaweedgel and #bioseaweedgel
2. Tag the colour name #BSGColourName
3. Tag the colour shade #BSGColourShade
Lovely beach colour!
Used this polish for a beach vacation and it was perfect!
Awesome polish!!!!
I am super happy with this polish! Really thin and smooth like acrylic paint but super pigmented!! Two coats looks like three but feels like one! Also the color is a little brighter than it looks in the bottle which is exactly what I wanted. 5 stars!!
Amazing
Love this shade of blue so much one of my go-to blue shades!!
Perfect baby blue!
My clients love this color!
Beautiful color, extra poor quality
I was so disappointed with the quality of this polish. It is thin and streaks. I've tried applying it three times with no success. I applied three coats and still don't have full coverage. At this point it was a waste of money since I'm throwing away the two bottles that I purchased.
Hi Verne,
Thank you for taking the time to write a review for 23 Powder Blue BeBio Nail Lacquer.
We apologize that the product was not working out the way as expected.
Rest assured this specific shade is a solid finish!
With the proper application, you should find a beautiful look with this shade.
May we suggest to shake the polish very well before use to ensure all pigments are well mixed. Then, when you paint, try to apply with a very soft hand (less pressure on the brush) and allow 2-5 air dry between each coat.
If you require any further assistance, please contact us at onlinesales@bioseaweedgel.com
Best regards,
BSG