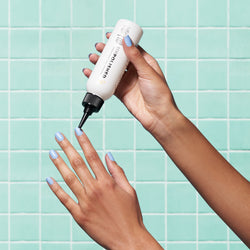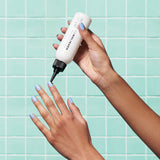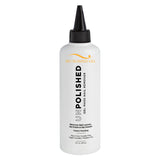 Salon Tools
UNPOLISHED Gel Mask Nail Remover
 Click for new UNPOLISHED Removal Kit

UNPOLISHED is the first gel mask nail remover.

UNPOLISHED is a gentle non-drip gel mask that effectively removes nail lacquer, gel product and dip powder. This product does not dry out nails or cuticles and does not require any additional acetone or nail foils. 

Purpose:

Non-drip gel mask that effectively removes nail lacquer, gel product and dip powder
Not a burst remover, removes nail product safer layer by layer 
Must be re-applied in multiple applications to gently soften nail product for removal 
Benefits:

Less odour and less products required
No additional acetone or nail foils required
Does not dry out nails or cuticles
Big-5 free, cruelty-free, vegan-friendly & paraben-free
Patent Pending
UNPOLISHED INSTRUCTIONS


IMPORTANT: Only use in an open and well-ventilated area. Do not use if skin is broken or irritated.
Overview of UNPOLISHED Removal
Product

Total Estimated Number of Applications

Soak-Off Time per Application

Total Estimated Removal Time

BeBio Nail Lacquer

1

1-2 minutes

1 - 2 minutes

UNITY All-In-One Gel Polish

3STEP Colour Gel Polish

2-3

3-4 minutes

6 – 12 minutes

Dip Powder System

3-4

5-6 minutes

15 – 24 minutes

Sculpting Gel System

4-5

5-6 minutes

20 - 30 minutes

PRO TIPS

Store UNPOLISHED in room temperature to ensure proper gel consistency.
If the product is too runny, you may place the bottle into a bowl of warm water to return to thick gel consistency.
Apply a generous coat of UNPOLISHED, as applying too thin will cause the gel mask to dry out quickly.
Do not exceed the estimated removal time, UNPOLISHED must remain wet in order to remove effectively.
1. BREAK THE SEAL 
Break the seal of your nail product with a light file. Not required for nail lacquer.

2. APPLY UNPOLISHED
Apply an even layer of UNPOLISHED across your entire nail. This layer should be similar to the thickness of a quarter coin. Avoid skin contact and cap the free edge.

3. ALLOW ESTIMATED SOAK-OFF TIME
Allow designated of soak-off time as per your product type. Do not allow mask to entirely dry, UNPOLISHED must remain wet in order to remove effectively.
4. PUSH OFF
UNPOLISHED is not a burst remover, your product may not look like it's crumbling off. However, it should be softened at this point. If removing gel or dip, use an orangewood stick to gently push off softened mask and product. If removing nail lacquer, use a lint-free wipe to firmly rub off the softened mask and product.

5. BUFF OFF
Use the Professional Gel Buffer to continue removing softened mask and product.
6. REAPPLY UNPOLISHED
Repeat Steps 2-5 as designed per your product type, applying UNPOLISHED only to areas with product left. UNPOLISHED will remove your product safer layer by layer. 

7. WASH HANDS & MOISTURIZE 
Wash your hands with warm water and soap. Moisturize your nails, cuticles and hands with hand lotion and cuticle oil.
Works Like a Charm
This is an easy and powerful remover! Not only for gel but regular polish too. I recently ran out of normal nail polish remover and decided to use my Unpolished bottle. What a sinch! No more tons of messy cotton balls.
This was faster and much easier. I don't know why some people said the smell in strong — did not think so, myself.
Will be relying on this for all my mani needs going forward. Thanks BioSeaweed!
The best!
I've never had a gel polish remover that actually left my nails looking healthy. This formulation is a total godsend. Not only was it easy to use and apply, but once I was done, my nails looked like they never had gel on them in the first place! Smooth and clean!! I had the unity polish on—I used a 100 grit on the polish to rough it up and then applied a really thick layer of the mask and left it on for 5-6 minutes. I did this three times. I know it's longer than the instructions say, but this method worked best for me bc I had 4 layers of the unity on (I apply a lot of thin layers so there is less chipping and more even surface). In between each removal i buffed my nails as well. I love this stuff and will be exclusively using it now for every removal.
Great product for removing of all kinds of nail polish without damaging my nails, a little goes a long way.
Healthier nails—for sure!!!
Used this last night. Wow!!! My nails look fantastic!!! This did not deplete my nails if their natural sheen and even though it did take me three applications—as it is noted on the directions… it was totally worth it. I conditioned my nails with the cuticle oil—like it tells you to go on the website…went to sleep and woke up this morning and my nails look like I've never had gel. Whooohooo. Meaning, when I've used other products 10 years ago—when I had gel nails done…and they removed the gel and my nails were totally damaged. It doesn't happen with this product. No idea how in the world this lifts the gel, but…whooohooo!!! Loooove it!!! I'm super happy to do a review. Be patent though okay? This isn't the fast and quick product that damages your nails. It takes time. But, wouldn't you rather take your time then have damaged nails…I do. Just check your emails for 15 minutes while it is working…or put on a facial mask and lay down for 15 minutes, or do some stretches…ha.ha. Enjoy your biosea. You will be amazed.
Easy gel remover!!
I absolutely love this product! I sometimes use this with regular mani too! When you use it with regular mani you can just leave this product for 5sec and remove them ! You have to leave it for longer on Gel mani! ❤️
Hi Julia,
Thank you for sharing your thoughts on UNPOLISHED.
We are thrilled to see our product is working for you with multiple uses!